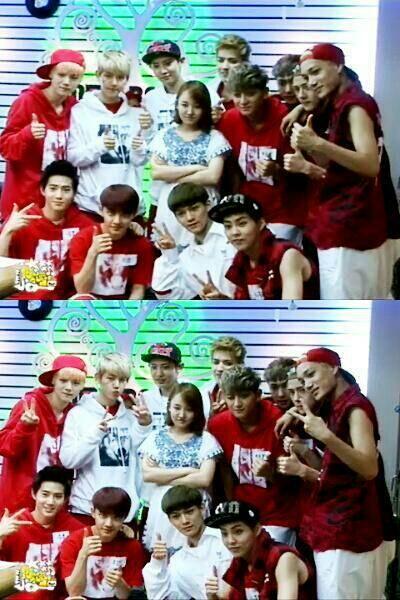 Check Out the Full Video!
Interview :
The EXO members will greet and make their favorite animal noises while greeting! :
Chanyeol made the giraffe noise.
Lay made the pig noise.
Luhan made the baby noise sound.
Chen made the sheep noise.
D.O made the cow noise.
Kris made the wolf noise.
Tao made the cat noise.
Xiumin made a seal noise.
Kai made a pigeon noise.
Baekyhun made a parrot noise.
Suho made a Mouse noise.
Chanyeol is introducing the new album~
Chanyeol : It was difficult to do the tree choreo at first but we practiced a lot and we perfected it.
Kai said that they watched a lot of wolf videos to get a good grip on how to act in the teasers and the MV.
They said Kai looks the most like a wolf
Chen: its the first time we promoted in korea and we got lots of cheers and the members help us adjust a lot so we're thankful.
Younha thought Chen was Chinese and Chen said: My real name is "Kim Jongdae".
They're singing a bit of the chinese ver. of wolf~
Chanyeol: It's uncomfortable living with so many people under one dorm. We shower up to 6 members at once!
Chanyeol: And when we're eating we eat together but luckily everyone has similar taste in food so it's easier for us
Younha prepared a corner where EXO will call out one person they miss, anyone they want.
Baekhyun: Lee kyungchul teacher (high school teacher) who encouraged me to try to be a singer. I can't get in contact w/ him but I miss him.
Suho: I want to meet this teacher, but I get confused with his name… // EXO/MC: Are you sure you want to see him again?
Suho: I want to meet Kim Younggyun teacher who has helped a lot.
Kai: Han Gukin teacher who teaches health class, and he would also ask if I wanted to come into his class.
Chen: Jongwang middle school, a friend 91-er who has been in the same class as me for three years but after debut we lost contact completely.
MC: How does he look like? / Chen: He has a really big nose.
Chanyeol: Elementary school, Kim kilwoo who was into music like me and taught me guitar and we're in the same band for three years. But we sort of fought and the subway incident.. after that.. we lost contact. I feel bad and I want to talk to him again~. He's a 91-line, he has double eyelids, and he's really white. His nickname is Gin Gil
Xiumin: When I was 9 years old, Choi Kyunghwan. / Chen: Is it a female or a male? / Xiumin: … Of course its a male. He used to help me when I get into fights. 90-line. / MC: Do you remember his face? / XM: He has round face.
Sehun: Middle school, Moon Hye-sook teacher. / MC: Did you fall for her? / EXO: What.. / MC: It's common to fall for teachers / SH: She's 50.
DO: Jo wonik teacher, i remember being in class with friends and he caught us playing games and he used to hit us with hockey sticks.
Wolf playing ~
EXO members are yelling one proverb and they're yelling it, the fans will have to guess what it is.
Baekhyun: Because Suho is here he just keeps us in order.
Q: The girl group i like – apink or girls day / Girls day: suho, sehun, tao, kyungsoo, lay.
kyungsoo: both are really good but the concept for girls day is sexy this time around.
Suho: i like both groups but because we're actually closer to girls day, we were even together for the ISAC.
Luhan: I picked A-pink because i like their songs and they're really bright and sweet.
Chanyeol: I listen to apinks song a lot and the dance is really addicting, i've danced along to it once and it's really addictive. we gave apink a surprise event backstage at a music show, we danced to their songs~
Would you rather live like a king or an EXO member? / Korean king: Suho, Kris, Chanyeol
MC: If you were a king what do you want to do? / Kris: I want to order people around
MC: Do you want to be a SJ member or a SHINee member? / Kai: Because EXO has 12 members we can fit just like Super Junior right?
Dont Go – EXO playing~
A fan sent in saying that D.O's teacher was a teacher at her school last year / Another said Kai's teacher she knows him and he can find him.
Chen's friend called in!!!
Chen's friend: Jongdae ya!! is that you? / Chen: Yes! it's me! it's been so long!! / Chen's friend: have you been doing well? / Chen: YES / Chen's friend: omg this is amazing. Remember what we promised? / Chen: You promised to cut my hair if I become a singer!
MC: Did you remember Chen when you saw him on TV? / Friend: Yes of course I watch him on TV a lot in the army!
Chen: He cut my hair before himself, because he wanted to be a hair stylist.
Suho's teacher that he said he wanted to talk to is on the line~
Teacher: I remember your name but not really how you look like~/ Suho: Do you remember how i was in school? / Teacher: You were a good student who can sing really well~ / Teacher: I'm at ooo so if you have time you can come find me / Suho: Yes I will! I love you~
Kai's teacher will be on the line
Since they can't get in contact with Chanyeol's friend the MC asked chanyeol to send a mesage.
Chanyeol: Both of us had the same dream and we both strived to reach it but then an obstacle crossed us and we fought.. I'm sorry.
Kai's teachers on the phone!
Kai: Do you remember me? / Teacher: yes.. / Kai: really~ I changed my phone before debut so i lost contact with you / Teacher: I saw you on star king actually! / MC: did you know that it's Kai when you saw him on TV? / Teacher: Yes / MC: What did you think when you saw Kai on the TV? / Kai: Well he's always good at dancing. / Teacher: come find me something / Kai: I will
Xiumin : I was really touched and thankful today~
Baekhyun: even though I didn't get to find the teacher I was looking for I'm still grateful.
Lay: I miss everybody and it made me emotional. I miss my family, friends, grandparents.. and it's fun today!
Heart Attack playing~
END
Trans by : CXOTrans